If you walk around the East Bronx neighborhood of Country Club looking for the actual country club, you will be walking for a long time. That's because it burned down in 1922.
The Country Club of Westchester, the neighborhood's namesake, was situated on the coast of Eastchester Bay, offering "races, dinners, coaching, dances, pigeon shoots, toboggan slides, polo, baseball, good cooks and cocktails." The whole country club concept was new to the United States, but starting in the early 1880s, these exclusive enclaves quickly became "the very essence of the American upper class."
I Don't Want to Belong to Any Club That Will Accept Me as a Member
(Groucho Marx)
Unlike the urban, male-only clubs of the time, country clubs allowed women and offered their members more opportunities to commune with nature, like shooting pigeons. This glowing description in the New York Tribune of the newly built clubhouse at The Country Club of Westchester is particularly evocative:1
As the visitor enters the house his attention is attracted by the main hall. It reaches through the water-front side, where it terminates in a bay window as large as a gamekeeper's cottage. This window is truly a fascinating spot for engaged couples. The view from it tends to inspire sentiment, and the soft draperies screen its occupants from the unhallowed gaze of incorrigible bachelors and helpless Benedicts.
I think we can all agree that there is nothing more effective at foiling the prying eyes of incorrigible bachelors and helpless Benedicts than soft draperies.
IN DA CLUB
Today, you will only find two clubs in Country Club: the American Turners Club and the DA Beach Club.
If you didn't know already, Turnerism is the system of physical, moral, and mental education developed in Germany by the father of modern gymnastics, Friederich Ludwig Jahn. The first U.S. Turner club opened in 1848. At the height of their popularity, the Turners had 317 clubs with over 65,000 members throughout America. Today, 50 clubs remain, one of which is in the Bronx.
I couldn't find much information on the DA Beach Club, which is surprising because their sign says they have been around since 1937.
Most of the pictures I've found online involve people drinking beers near a pool, so it would appear their commitment to physical fitness is less strident than the Turners. It looks like they may have more fun though.
---
OHM, WATTS THE DEAL?
You can learn quite a bit about a neighborhood's history through its street names. How streets like Polo Place and Stadium Avenue got their names is pretty easy to figure out, but on the northern edge of Country Club, things start to get a little nerdy. 
Signs for Ohm, Watt, Radio, Ampere, and Research Avenue predominate, and the man responsible is Isaac Leopold Rice. Rice's widow, Julia, donated $1 million towards the construction of Rice Stadium in nearby Pelham Bay Park in the early 1920s in honor of her late husband. While the stadium was torn down in 1989, the nearby streets' electric names remain. Rice was president of the Electric Storage Battery Company, Electric Boat Company, and the Electric Vehicle Company. This was a man who was into electricity but not into coming up with creative names.
Born in Bavaria in 1850, Rice's family immigrated to Philadelphia. After a stint studying music in Paris, he moved back to the U.S., where he composed and taught music to support his family.
For Rice, the logical next step after a career in music was becoming an expert in railroad law, a pivot that made him a small fortune. He then resurrected a company that developed the U.S.'s first modern submarine fleet. That company later became General Dynamic, one of the largest defense contractors in the world.
Not content with submarines, Rice founded the Electric Vehicle Company more than 100 years before Elon Musk launched his Tesla Roadster. Fun Fact: In 1899, ninety percent of New York City's taxi cabs were electric vehicles.
In his spare time, Rice wrote two books on musicology, including "How the Geometrical Lines Have Their Counterparts in Music?" (who says he couldn't come up with good names?)
To top it off, Rice was an avid chess enthusiast and played a significant role in popularizing the game in the U.S. He even discovered a chess opening he named the Rice Gambit and sponsored several tournaments featuring the move. While the gambit was later described by The Oxford Companion to Chess as ''a grotesque monument to a rich man's vanity," I can think of worse ways to spend your money.
---
There is another cluster of themed street names in Country Club. Siegfried Place, Lohengrin Place, and Parsifal Place are all names of Wagner operas. According to Bronx borough historian Lloyd Ultan, the streets were named by opera buff and president of the Westchester Electric Light Company, Eugene Rosenquest.2
---
ALMOST GOLDEN
It was hard to find much information about Country Club, so I was thrilled to stumble upon Almost Golden, a book written by two brothers, Robert and John Mariani, who grew up in the neighborhood in the 50s. A chapter entitled The Doctor's Daughter describes the lavish lifestyle of a doctor who had recently moved across the street from the Marianis.
He had a gazebo built and planted grape vines to tangle around it. On summer nights he and his wife and three daughters would dine there by lantern light, tended by their Spanish house-keeper, Maria, and their gardener/butler, Charles, who donned a crisp white jacket for the occasion.
The only things missing are the soft draperies. Upon closer inspection, however, it appears that the account was a bit exaggerated. 
An Amazon review for the book by L. Perrotta, who identifies himself as the doctor's son, rebutted Mariana's depiction of his family in a review titled:
CONGRATULATIONS ON A NICE LITTLE WORK OF FICTION
There was no indoor swimming pool, no mahogany speed boat, no Spanish maid named Maria, no butler named Charles "in a crisp white jacket" serving dinner in Mr. Mariani's imaginary gazebo, no miniature Fountain of Trevi, and no extraordinary new cars in the driveway several times each year. My father was hardly ever home, as he had an extremely busy medical and surgical practice.
Amazingly, Louis Jr. still gave the book three stars.
Lines in the book like, "She had the kind of ass that Levi's had been designed for – heart-shaped and tight as a drum," don't really withstand the test of time. Still, it is the only book you will find that goes into any sort of detail about the neighborhood, so if you have $3.84 and are interested, you should get a copy. Or just ask me for mine.
SIGHTS AND SOUNDS
This week's sounds includes the hum of competing leaf blowers and a kid trying to get his mom's attention, to no avail. I love making these field recordings and think they are an essential part of the project, so I was thrilled to see them featured in Rob Walker's terrific newsletter,
. If you haven't checked out Rob's newsletter, I highly recommend it!
---
The Neighborhoods is a reader-supported publication. To receive new posts and support my work, consider becoming a free or paid subscriber.
FEATURED PHOTOGRAPH
Charles Harbutt (July 29, 1935 – June 30, 2015) was an accomplished photojournalist and two-time president of Magnum Photos. In addition to publishing several books (all of which appear to be out of print), he was the photo editor and one of the photographers for 1969's "Plan for New York City," a six-volume plan documenting all 62 of the city's districts. That project, full of image layouts that Harbutt referred to as "city symphonies," has, in many ways, been a touchstone for this newsletter.
George Frye, Bruce Davidson, Burk Uzzle, and Richard Kalvar were among the many photographers enlisted to work on the project.
There is a great piece (where I got most of this info from) written by Greg Rice for Urban Omnibus on the Plan For New York and Harbutt's experiences as editor and photographer for the project.
I love this from Harbutt's introduction to his monograph, Departures and Arrivals, describing his shift from a more traditional photojournalistic approach.
Gradually my pictures became more about what I felt in my day-to-day wanderings and not so much about subject.  They started to be about the shapes and forms I was seeing and drawn to, suggesting a content different from their subject matter.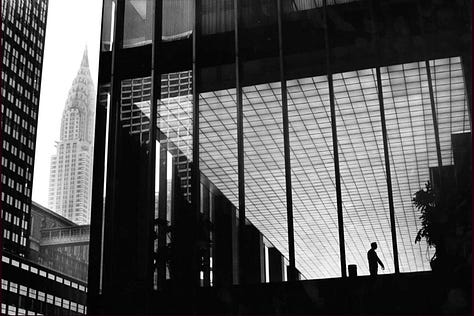 More of his work can be seen at the Peter Fetterman Gallery
NOTES
For you chess enthusiasts, this is the Rice Gambit: 1. e4 e5 2. f4 exf4 3. Nf3 g5 4. h4 g4 5. Ne5 Nf6 6. Bc4 d5 7. exd5 Bd6 8. 0-0 . So grotesque.

Speaking of opera and people with resumes that trigger inferiority complexes, Louis A. Perrotta, the doctor at the heart of Doctor's Daughter in Almost Golden, was an Italian-American surgeon who lived in Country Club. Like Rice, Perrotta also immigrated to the U.S., moving with his family from Italy in 1908. Also, like Rice, he studied music and took violin, mandolin, and vocal lessons. Singing helped finance his college tuition at Fordham University. It's incredible today to think that both these men used music to finance their careers rather than the other way around.

After singing his way through med school, Perrotta founded Pelham Bay General Hospital in the Bronx, where he served as the hospital's director of surgery and co-owner. His research in spinal anesthesia popularized the use of epidurals during childbirth. In addition, he was the go-to physician for several opera stars of the day at the Metropolitan Opera.

While Citi bike docks are now a begrudgingly accepted part of the city landscape, New York has been spared the spawn of shared electric scooters that litter the streets and sidewalks of many other U.S. cities. Well, almost all of NYC. In 2021, the city launched the East Bronx Shared E-Scooter Pilot program, dumping 6,000 shared e-scooters in communities from Wakefield and Pelham Parkway to Soundview.

When I first visited Country Club and saw two scooters leaning enticingly against a battered guardrail, I thought it was time I saw what all the fuss was about.

After signing the waiver and swiping through some directions,  I mounted my two-wheel "micro-mobility" machine and was on my way. I soon saw why all those awkwardly upright scooter riders I had scoffed at in the past seemed so willing to sacrifice a little bit of their dignity for this mode of transportation. Hurtling down the street, wind blowing through what was left of my hair, sunlight glinting off the flat water of the bay, I felt, for the first time in ages, truly free.

Then, all of a sudden, I heard three chimes from somewhere underneath the handlebars. The scooter started slowing down. When I unlocked the scooter, it assured me I had enough battery life for miles of fun. I jammed the throttle hard, but nothing. The scooter came to a halt.

According to the app, I had entered a no-go zone. I begrudgingly turned the limp, cumbersome scooter back the way I came, but my enthusiasm was waning. Halfheartedly, I continued to ride around the adjacent streets, but every time I got a good head of steam, I was met with the same warning chirps and inevitable slowdown. Like a rat in a cage, I was bound on all sides by these no-go zones. Finally, disgusted by the nanny state policies of Big Scooter, I leaned my ride against the nearest tree and, $11 poorer, made my way back out into the neighborhood.

3 out of 5 stars.
1
http://historicpelham.blogspot.com/2016/09/origins-of-country-club-at-pelham-and.html